Mike Tyson on Broadway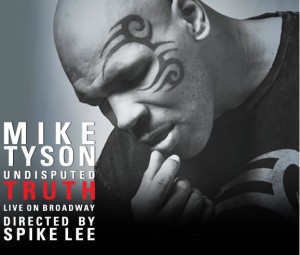 Former boxing heavyweight champion Mike Tyson will be bringing his raw and unfiltered life story to the Broadway stage in "Undisputed Truth". Tyson known for his epic battles in the ring that include biting a piece of Evander Holyfield's ear and once threatening to eat the children of heavyweight champion Lennox Lewis, will be doing a one man show at the Longacre Theatre for a 12 performance run, July 31 – August 12.

Tyson's riveting story will explore periods in his life that include tales from fights, world records, championships, prison, prostitutes, drugs, pigeons and Hollywood blockbusters movies. Mike Tyson will be making his debut on Broadway in this story that is being directed by Academy Award® nominee Spike Lee. Tickets start at $75 and can be purchased at Telecharge.
MIKE TYSON: UNDISPUTED TRUTH!
July 31 – August 12
Tuesdays – Saturdays at 8PM
Sundays at 7PM (except for Opening Night 8/2 at 6:30PM)
Longacre Theatre
220 W 48th Street between Broadway and 8th Avenue
New York, NY
Related posts: