Fleet Week 2012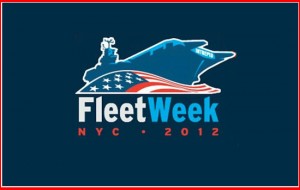 Almost every year since 1984, New York City has honored the U.S. Navy and Marine Corps by putting on a celebration of sea services for Fleet Week. This year will mark the 25th Fleet Week in NYC and from May 23-30, there will be interactive displays and military demonstrations along with public visitation of participating ships in the festivities.

Fleet Week will be an opportunity for the public to meet marines, sailors, and coast guardsmen. The service men and women will also be demonstrating some of the capabilities of today's Navy, Marine Corps, and Coast Guard.
A highlight of the week long celebration is the Memorial Day commemoration which features the singing of Taps and a military aircraft fly over in honor of those who lost their lives in service to the United States.
All events are free with the exception of the ones held at the USS Intrepid Sea, Air and Space Museum. Find out more information on tickets to enter the museum here. For more information, visit the official Fleet Week New York City Web site.
Parade of Ships
Wednesday, May 23, 2012
8:30 a.m. – 1 p.m.
Hudson River on Manhattan's west side
Participating in this year's Fleet Week commemoration are:
USS Wasp (LHD-1)
USS Roosevelt (DDG 80)
USS Mitscher (DDG 57)
USS Gonzalez (DDG 66)
USS Donald Cook (DDG 75)
USS San Jacinto (CG 56)
USCG Eagle (WIX 327)
USCG Seneca (WMCE 906)
USCG Willow (WLB 202)
Public Ship Visitation
Manhattan – ships are open every day from 8 a.m. to 5 p.m.at Pier 92
Staten Island – ships are open every day from 8 a.m. to 5 p.m. at the Homeport Pier
Brooklyn – Ships are open Sat, Sun & Mon, May 26-28 from 8 a.m. to 5 p.m. for the coalition ships.
Related posts: