2012 Mermaid Parade at Coney Island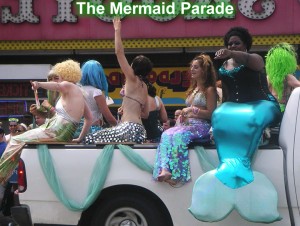 The 30th anniversary of the Mermaid Parade at Coney Island will take place on Saturday June  23.  The parade is the nation's largest art parade and one of New York City's greatest summer events. The Mermaid Parade pays homage to Coney Island's forgotten Mardi Gras in a wonderful and wacky event that is unique to Coney Island. If you've never been to Coney Island, this is an event that you do not want to miss.

The Parade will be followed by the 10th Annual Mermaid Parade Ball which is the the official after-party of the Mermaid Parade. Here's your chance to rub elbows with an extremely unique gathering of costumed parade participants. There will be live music, cocktails and in true Coney Island wackiness, a burlesque show by some of New York City's hottest performers. New York Aquarium (Oceanic Deck and Aqua Theater), Surf Ave. & West 8th Street, 7pm – 11:30pm, 21 and over.
Mermaid Parade
June 23 2:00PM

View Mermaid Parade Route in a larger map
Parade Route
The Parade will start at West 21st Street and Surf Avenue
* The Parade will roll east to West 10th Street
* at West 10th Street the Parade will turn south towards the boardwalk
* cars and motorized floats can park on West 10th Street
* At the Boardwalk, the marchers and push-pull floats will turn west and head towards West 15th Street
* At West 15th Street, the Parade will disband
Related posts: