McCarren Play Center in Williamsburg Brookyln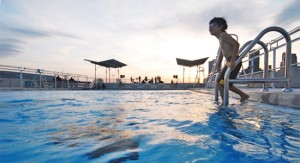 North Brooklyn has one of the most low cost fitness options in the city. The McCarren Play Center opened on June 28, 2012 and with this center, comes a wide variety of recreational activities for Brooklynites and New Yorkers alike. They are currently selling memberships that are $150 per year for adults with pool access and $100 without pool. Kids under 17 are free to access all of the 33 recreation centers including all 12 indoor pools.

McCarren Play Center which is attached to the iconic McCarren Pool, has been newly renovated and will offer year-round programming for members of all ages and abilities.
McCarren Play Center
776 Lorimer Street
Brooklyn, NY 11222
Map it
Mondays – Fridays, 7:00 a.m. – 10:00 p.m.
Saturdays, 8:00 a.m. – 5:00 p.m.
Sunday: Closed
Related posts: