The 85th Annual Macy's Thanksgiving Day Parade will take place on Novemmber 24 at 9am. Look out for Kermit the Frog and SpongeBob SquarePants, the parade's giant balloon characters as well as colorful floats and a lineup of celebrity performers. Millions of people watch the parade on the streets of New York City and other's watch on TV across the world. The Thanksgiving Day Parade is one of the largest in the nation.
This years Celebrity Performers include:
Mary J. Blige, Neil Diamond and American Idol's Scotty McCreery.
Giant Balloons to look out for:
Buzz Lightyear, Clumsy Smurf, Diary of a Wimpy Kid, Julius, Kermit the Frog, Kung Fu Panda, Pikachu, The Pokemon Company, Pillsbury Doughboy, Ronald McDonald, Sailor Mickey, Snoopy the Flying Ace, Sonic the Hedgehog, Spider-Man, SpongeBob SquarePants, Hello Kitty
Parade Route
Unlike most of the city's big parade's this year, the Macy's Thanksgiving Day Parade is not on 5th avenue and does not run uptown on one street.
The Macy's Thanksgiving parade will begin at 77th Street and Central Park West, and will make it's way down Central Park West to Columus Circle (59th st.). The parade will then turn onto Central Park South and then head south on 7th Avenue. At 42nd Street, the parade will turn east onto 6th Avenue until hitting 34th Street and turning west. The parade will end in front of Macy's Herald Square.
Macy's Thanksgiving Day Parade Public Viewing Areas
Central Park West: West side of street from 70th Street to Columbus Circle & east side of street from 70th to 65th
Columbus Circle: West side of street
7th Avenue: between 58th & 42nd Streets
42nd Street: from 7th to 6th Avenues
6th Avenue: between 42nd & 34th Streets
34th Street: south side of street between Broadway & 7th Avenue
NOTE: There is no public access in the telecast area on 6th Avenue between 34th and 38th Streets and on 34th Street between Broadway and 7th Avenue. The south side of 34th Street between Broadway and 7th Avenue will have limited viewing for the public.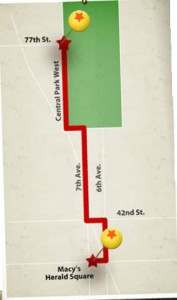 Macy's Thanksgiving Day Parade 2011
November 24
Start Time 9am