Every year, New York City hosts one of the most outrageous Halloween Parade's in the world. This year will mark the 43rd year of the parade that takes place in Greenwich Village.  On Monday October 31st, get ready to see costumes that are colorful, wacky, imaginative, and much more when the parade makes its way up 6th avenue.
More than 50,000 costumed participants will entertain the two million plus onlookers. You can expect to see stilt-walkers, jugglers, hundreds of giant puppets, more than 50 bands representing music from around the world, dancers of all styles, artists with explosive imaginations, and of course, thousands of New Yorkers in costume creations of their own.
If you are going to the parade, the streets are most crowded between Bleecker and 14th Street, so you might want to consider getting there early or standing in another spot.
The parade runs along 6th Ave from Spring Street to 16th Street. It starts at 7pm and goes until approximately 11pm.
If you can't make it to the parade, it will also be televised on NY1: 7:30pm – 9:30pm.
Whether you are taking part in the parade or watching from the sidelines, you are sure to have a wonderful spooky time! For more information about the parade visit, Halloween NYC.
Parade route: On 6th Avenue from Spring Street to 16th Street from 7:00pm – 10:30pm
Getting to the parade by SUBWAY:
Sixth Avenue (B,D,F,Q) to 23rd, 14th or West 4th Street Stations
Seventh Avenue (1,2,3,9) to 23rd, 18th, 14th, Sheridan Square or Houston Street Stations
Eighth Avenue (A,C,E) to West 4th Str eet, Spring (this station is closest to the Line Up area) or Canal St. Stations
14th Street ( L) to Sixth Avenue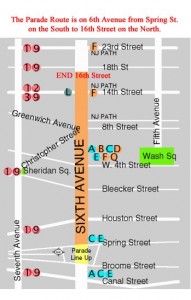 Map courtesy of Halloween NYC